Automation Assembly & Equipment
For 40 years, Die-Max has been assisting manufacturers of various sizes in harnessing the numerous advantages of custom equipment and automated assembly. As an active Integrator, we serve as a single source for welding, assembly, and custom automation. Our role is to assist in discovering solutions that enhance manufacturing requirements. In our manufacturing facilities, we engage in the design, construction, operation, and delivery of products to customers throughout the U.S, Canada, and Mexico.
Our people have the unique combination of on-site customer support experience and in-house design and integration experience to tackle any process required. We have designed, developed, and integrated many automated systems for internal manufacturing as well as a wide variety of customers to keep them efficient and operational.
With our experience and knowledge, we know what works.
Robotic MIG Welding & Assembly

Our ongoing objective has been to offer our customers cutting-edge robotic welding services, harnessing the latest advancements in robotics technology. Our robotic welding services not only prioritize precision and reliability but also excel in cost-effectiveness, rapid turnaround times, and unparalleled quality control.
To deliver high-quality value-added parts or sub-assemblies, our engineers will design, manufacture, and deploy a system customized to specific requirements and budgets. The systems incorporate the latest Poka Yoke fail-safes for consistent top-notch product quality.
Cost-effectiveness is a foundation pillar of our service. We recognize that cost-efficient welding solutions are essential for businesses to remain competitive. By streamlining our processes and optimizing resource utilization, we offer cost-effective solutions without compromising quality.
Rapid project turnaround times are essential to our service philosophy. We recognize the importance of time in the manufacturing industry. Our team is well-prepared to efficiently manage welding projects, ensuring timelines are met, and products reach the market quickly.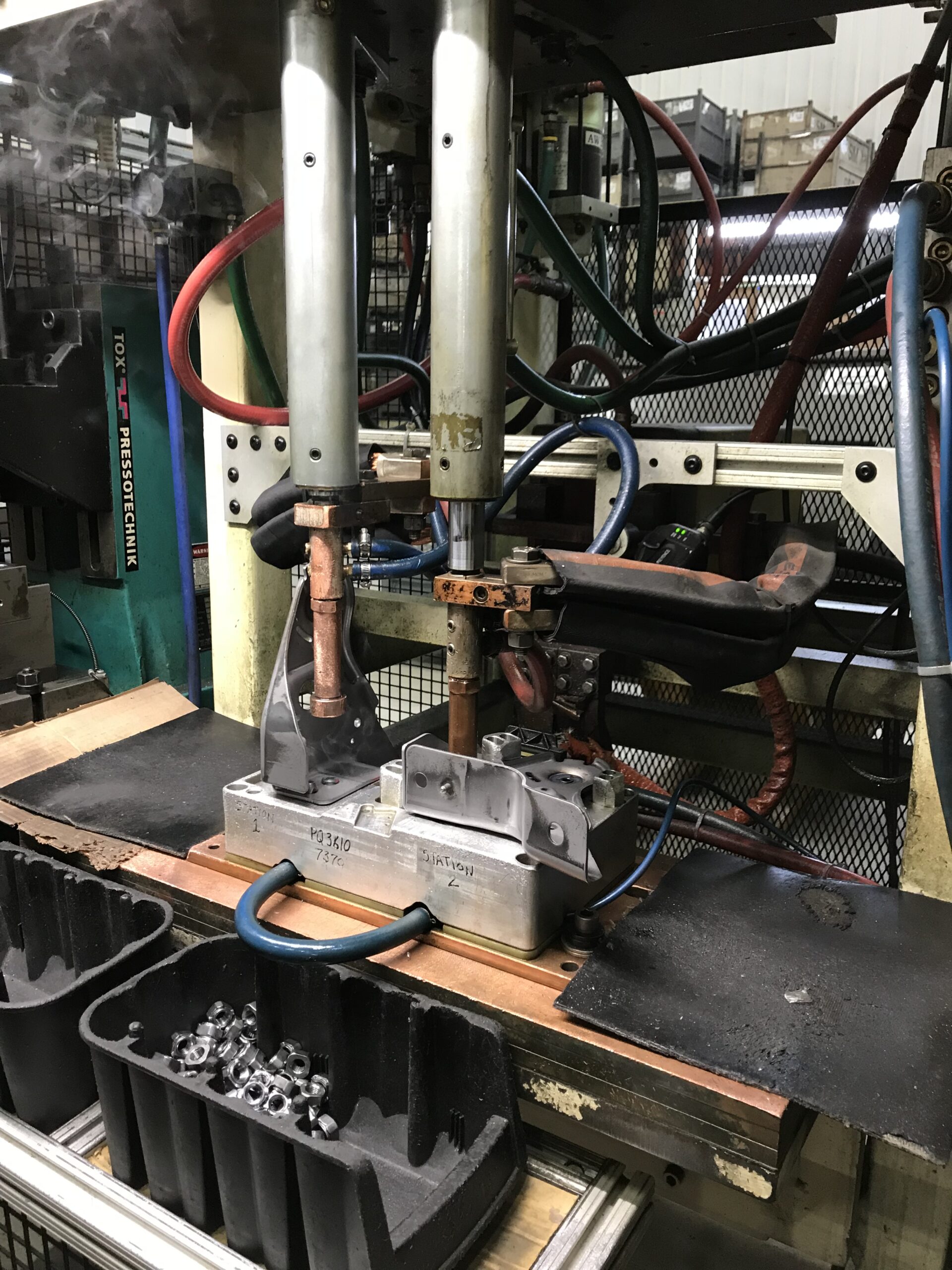 Our Wire Forming services prioritize precision and intricacy, thanks to our investment in state-of-the-art equipment and technology. This advanced machinery guarantees exceptional accuracy in crafting each wire form with precision and consistency.
Since every wire form is unique, our services are dedicated to custom design and fabrication. We collaborate closely to comprehend the specific requirements, enabling us to create wire forms that perfectly match the applications. This tailored approach efficiently meets unique needs.
The performance and reliability of components are vital in diverse industries, including automotive and electronics. Our Wire Forming services are designed to enhance the performance of these components, ensuring they meet or surpass industry standards for quality and reliability.
Wire forms can be made from a variety of materials, and our expertise covers various materials like steel, stainless steel, aluminum, and more. We possess the knowledge and experience to handle various materials, meeting the specific requirements of applications.
Our Tube Forming services emphasize precision at each stage of the process. We utilize advanced equipment and techniques to guarantee tubes are shaped with exacting accuracy. Whether a project involves complex bends or simple shapes, precision remains unwavering.
Custom solutions are often necessary for Tube Forming, given the substantial variations in specifications and standards across industries and applications. We collaborate closely to comprehend unique requirements and design tube forms that perfectly align with the provided specifications.
Quality is a core component of our Tube Forming & Welding services. We have rigorous quality control measures in position to guarantee that each tube form complies with or surpasses industry standards. Our dedication to quality encompasses all facets of the process, starting from material selection and culminating in the final welds.
In the manufacturing sector, timely delivery is of utmost importance. Our Tube Forming & Welding services are structured for swift project finalization, enabling products to access the market more rapidly.
Automation & Custom Equipment
At Die-Max, our Automation & Custom Equipment services aim to deliver customized solutions for optimizing manufacturing processes. We recognize that each business and manufacturing facility has its unique characteristics, and we are dedicated to offering solutions tailored precisely to match individual needs.
Our collaborative method sets us apart. We engage closely to grasp the distinct requirements, challenges, and objectives. This collaboration enables us to create and develop automation solutions that smoothly integrate into existing processes, addressing specific challenges.
Our team holds extensive industry knowledge, having collaborated with a diverse array of businesses in different sectors. This knowledge equips us with the insight required to create solutions that not only fulfill requirements but also adhere to industry standards.
Our Automation & Custom Equipment services exhibit versatility, extending across a broad spectrum of industries and applications. Regardless of whether it be operations in manufacturing, logistics, or any other sector, our custom solutions can be tailored to fit any unique demand.
Automation & Custom Equipment
Automation & Equipment Fabrication
Advanced engineering and experienced project teams
Robotic MIG Welding and Assembly: Our advanced Robotic MIG Welding and Assembly services are at the forefront of technology, ensuring efficient and precise welds. We're dedicated to delivering high-quality results that support a variety of applications across different industries.
Our commitment to providing top-notch outcomes drives us to create welds that possess strength, reliability, and visual appeal. Whether a project encompasses intricate, small-scale components or large, heavy-duty structures, our Robotics MIG Welding and Assembly services exhibit versatility and adaptability, serving a diverse array of applications in multiple industries.
Resistance Welding: Our proficiency in Resistance Welding empowers us to create dependable and efficient welding solutions. We emphasize precision, cost-efficiency, and quick project completion, offering comprehensive assistance for manufacturing requirements.
Precision stands as a fundamental element of our strategy. We recognize its importance in welding, as it significantly influences the final product's quality and integrity. Our Resistance Welding techniques are carried out with great attention to detail, guaranteeing each weld's precision and adherence to the most stringent quality criteria.